CMDB Health Check
ConfigureTek's CMDB Health Check provides an evaluation of your current ServiceNow CMDB implementation to ensure maximum value.  The assessment is based on industry recommended practices for implementation of your CMDB and overall Configuration Management System (CMS) to support the ServiceNow IT Operations Management modules, in particular event management.  The result of the assessment provides you with the next steps as well as an implementation plan to improve usage of the ServiceNow platform and enhance business support from the IT management organization.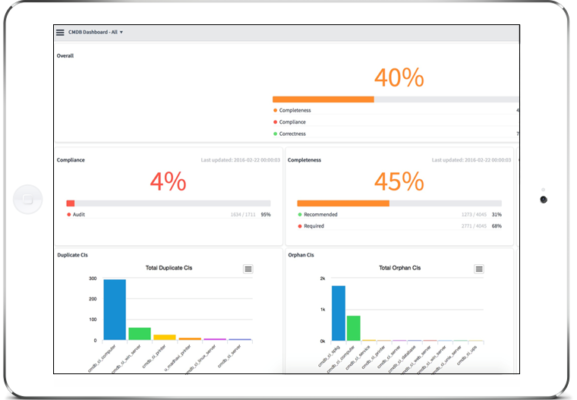 Details
One day workshop focused on the current ServiceNow CMDB platform
Led by an experienced ServiceNow Solutions Architect to review current state and future objectives to reach value based outcomes
Examines CMDB technologies, processes, and organizational support focused on CMS and Event Management
Incorporates pain points of current implementation and desired features and functionalities not currently in use
Evaluates current discovery and service mapping to ensure optimum support for CMDB modules, with a focus on event management and orchestration
Provides recommendations and an implementation timeline as next steps to improve CMDB support of the business.
Business value
Provides strategic vision to enhance use of the ServiceNow CMDB products
Enhance configuration management and operational support to:

Reduce costs by consolidating CMDB products in use
Avoid costs of bridge calls when outages occur by enhancing root cause analysis
Restore service for critical applications and business services in shorter timeframe
Minimize risk to compliance audits by enhancing visibility
Ensure customer and internal employee satisfaction in use of business and mission critical applications

Delivers a time-line and project plan to achieve desired outcomes with a focus on time to value
Presentation summarizing assessment, objectives, value based outcomes, and prioritized recommendations
Implementation plan including a time line to enhance CMDB capabilities for IT and the business
Sample deliverables below: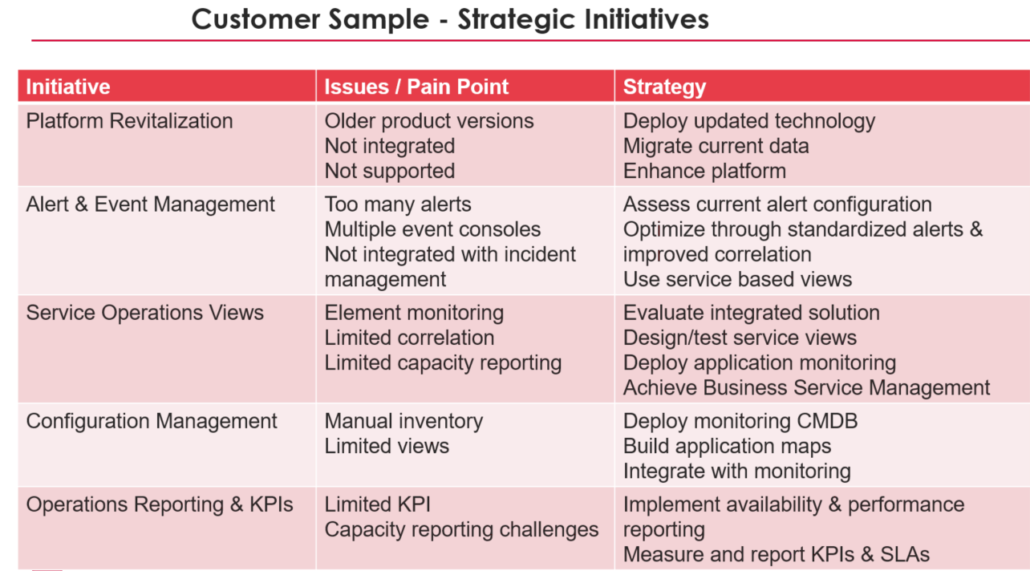 Workshop delivered in one day
Assessment of current CMDB and Event Management platform
Review of pain points and desired features & functionalities
Discussion with workshop sponsor as well as IT Operations, Configuration Management, Infrastructure Management (server, network), application support teams
Recommendations presentation

Workshop planning meeting – review of questionnaire, agenda, objectives, outcomes
Kickoff meeting with sponsor and attendees inclusive of:

IT Operations Center
Infrastructure (server, network, storage) monitoring and management
Configuration management
Application support

Sessions with teams above to understand current state and to-be state, and then develop implementation strategy
Presentation of prioritized recommendations and implementation plan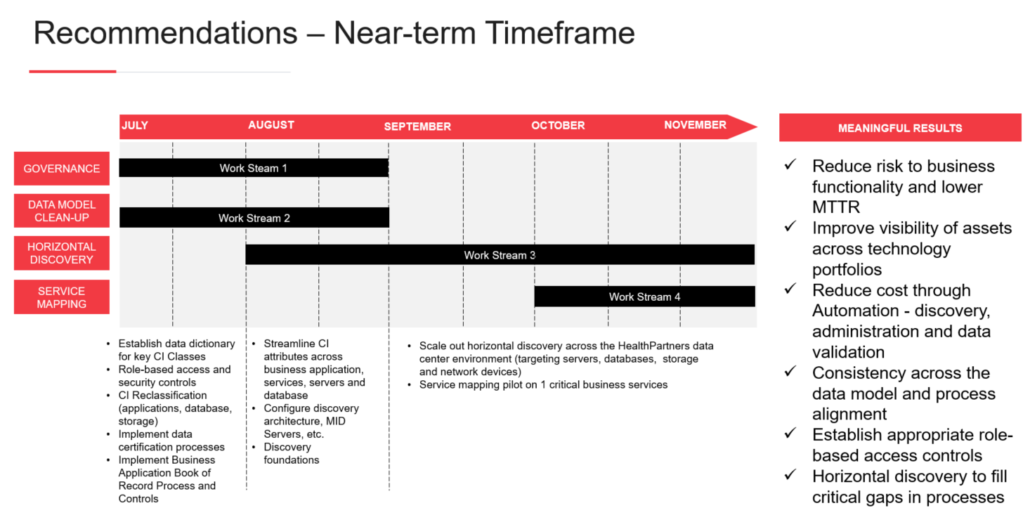 Implement this assessment now!
Contact us so you too can realize the benefits of this powerful solution