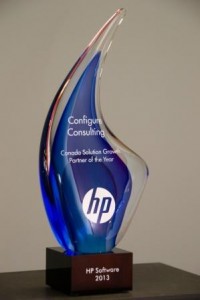 ConfigureTek is extremely honored and proud to receive HP Canada Solution Growth Partner of the Year award.
"This is a significant achievement and accomplishment within a very short span of time. The credit goes to all our team that have tirelessly worked to the satisfaction of HP and all our clients", commented ConfigureTek's technology director. "This award undoubtedly confirmed an outstanding contribution of our sales and technical team work. We have very strong dedicated professionals that deliver customer satisfaction through service excellence", the technology director said.
For ConfigureTek it is pretty exciting to be partnering with HP – a leading technology company, offering a portfolio of innovative products, services, and solutions with customers all over the world. As noted, HP manages strong partner relationships that result in mutual profitable growth. At the same time, it is a big responsibility for each company. That's why ConfigureTek's endeavour is "to show value of HP Software and Solutions to any-sized businesses in a short period of time. With this approach in mind ConfigureTek has come up with quick-start solutions that are easily affordable by any companies. For example, solutions within $50K of software costs that provide results in a short term," the technology director specified.
Having two teams located in Canada and United States, ConfigureTek's experts successfully implement projects in both countries. As the technology director mentioned, "while we do not want to compare US and Canadian markets in terms any specific market influencers, we strongly believe in providing lasting results in a short term at an affordable price. With this approach coupled with providing customer satisfaction through service excellence, we can penetrate the Canadian market sizably."