Automatically discover and report on Oracle licenses deployed within your organization by leveraging ConfigureTek's expertise with HP Software tools. By utilizing HP's HP Universal Discovery and HP Asset Manager products, your organization can automatically generate Oracle approved license reports. The capabilities brought about by this solution address the complexities involved in maintaining Oracle licenses.
The challenges
The challenge faced by clients using Oracle software is the time it takes to run license management services. Below are some of the most common questions.
• How do we quickly discover all the installed Oracle database instances across the network?
• How do we identify which options and management packs are enabled?
• How do we find all the CPU and core details in all servers where Oracle is installed?
• Is there a way to accurately interpret the information discovered?
One option is to allow Oracle's LMS team to perform such tasks but that would involve rearranging schedules to accommodate the LMS team and could be time consuming and costly task.
HP Universal Discovery (UD) for Oracle License Management software provides clients with a more convenient, automatic and cost effective alternative. This unique Oracle-verified solution was developed by HP in collaboration with Oracle LMS, to enable the rapid and non-intrusive collection of information. Resulting in a clear view into your organization's Oracle Database license environment.
The consequences for failing to be in compliance with your Oracle license agreement could prove to be very costly. According to Gartner, Oracle is one of the top four software vendors conducting license audits and at the highest frequency. Gartner also states that, if an organization has not been audited in the last three years, then there is a 65 per cent chance that the organization may be audited in the next 12 months.
If unauthorized or unlicensed Oracle software is identified, it doesn't matter if the install was unintentional, there is the possibility of hefty fines and paying full price for licenses. With UD for Oracle LMS module, customers are able to proactively leverage discovery in advance of their annual Oracle audit. This provides a greater sense of confidence when the audit does take place, much less the renegotiation of any Enterprise License agreements or true-ups with Oracle as an output.
The Solution
Gather the install base data:  Discovery of all Oracle databases, database options, management packs and hardware information using Oracle-verified methods
Save the burden of on-site audits: Generate Oracle verified reports and forward to them in one zip file
Make the data actionable:  Conversion of  inventory data into license liability data reflecting the Oracle licensing model
Track all Oracle license and maintenance contracts:  Ongoing management of terms and conditions for Oracle
Assess delta between used and purchased licenses:  Reporting on software compliance including costs and recommended actions
Oracle Compliance Management with HP Software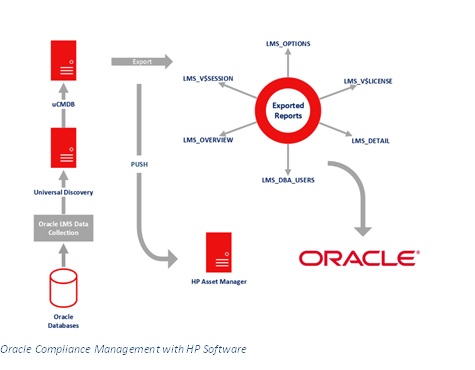 For more Information
To learn more about HP UD for Oracle Licensing and HP Software Asset Management contact the ConfigureTek team at: 1-800-987-8460 or info@configuretek.com.
 About ConfigureTek
ConfigureTek implements quick-start solutions to empower IT operations teams with the efficiency, stability and top performance in the delivery of business services. ConfigureTek has been installing solutions globally for Fortune 500 clients across a number of industries. The team has particular expertise with change configuration and release management, closed-loop incident process, business service management, configuration management systems, and service asset and configuration management. After a successful implementation, our clients come away with leading solutions following industry best practices. The ConfigureTek team has developed a deep understanding across the HP IT Performance Suite (formerly BTO) portfolio and has attained HP ExpertONE certifications. The close partnership with the customer through each step of the implementation provides with a high quality solution