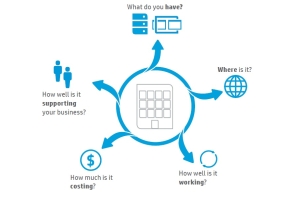 If you can't manage what you can't measure, then it goes without saying that you can't manage and optimize what you can't even locate. Unfortunately, that's the situation many IT organizations find themselves in when it comes to IT assets.
On the other hand, if you know what IT assets you have, where they are, who is using them, and how much it costs to procure, operate, and dispose of them, then you can make data-driven decisions that result in lower costs, greater compliance, and improved quality.
IT assets are the hardware, software, services, and virtual components IT acquires and uses to deliver business services. Often assets are like icebergs—only a fraction of what matters is visible. Industry data suggests only a small part of the total costs of an asset is incurred at the time that the asset is acquired; by far the greatest part of an asset's cost is incurred as it is deployed, used, changed, redeployed, and, finally, retired. Managing these costs requires tracking assets across the entire asset lifecycle until they are no longer of capital or regulatory value to the organization.
Business inefficiency without proper asset tracking
Typically, organizations often do not know:
What assets they own
Where the assets are
Who is using them
How well each asset is working
If each asset is contributing to the business goals as expected
Termination dates
Contract terms and conditions
What software licenses are on PCs
What software is in use
If software license compliance is adhered to
Warranty details
Hardware and software upgrades that are unrecorded\
Total Cost of Ownership (TCO)
IT asset tracking challenges
Failing to manage IT assets across their entire lifecycle—from acquisition to disposition—proves costly for businesses, puts them at risk legally, and blinds the businesses to new opportunities. The reasons why include:
New hardware and software are unnecessarily purchased when there are existing assets available for redeployment.
Untracked assets are stolen as terminated employees leave without being required to account for their IT assets.
Organizations pay lease and support contracts for assets that are no longer in service.
Companies pay excessive taxes because retired assets are still on the books.
Weak disposal procedures and documentation trigger regulatory fines and penalties.
ConfigureTek Asset Management Solution features:
Effective asset tracking: conveniently tracks cloud assets as well as the physical by leveraging the power of automatic discovery
Lifecycle Management of the assets: proactively identifies inefficiencies, redundancies and wasted resources across the asset lifecycle to support optimization and budget targets
Financial Management: notifies and reports on actuals vs. budgeted expenditure, total cost of ownership across IT assets, and chargebacks for business services
Compliance reporting across the physical and virtual environments
Automated management of workflows to expedite the approval process for users' requests for IT services supported by virtual platforms
Discovery across IT assets with HP Universal Discovery Software