Project Description
Gain better understanding of IT assets following the experience of the insurance provider
Client: One of the largest insurance providers within the United States
Industry: Insurance
Size: 10,001+ employees
Task: Asset inventory and SAM
Duration of the project: 6 months
Why the software was chosen?
The HP Asset Manager software was chosen because the CA UAPM software was not returning reliable data and was difficult to navigate through. Another reason they decided on the HP application was because of the out-of-the-box functionality it offered, including Software Asset Management. The key benefits gained by implementing the Asset Manager software were that they now have a better understanding of not only what IT assets they have in their possession, but where they are located and who is using them. They also have, at a glance, the knowledge of what software is installed on each of their IT assets. This, in turn, enabled them to understand and realize their software license compliance or non-compliance.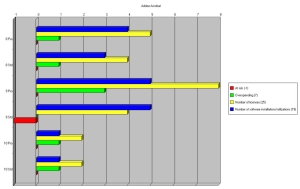 Project Overview
Recently, the ConfigureTek team worked with the Software Configuration Management team of the large insurance company. The customer was looking to gain a better understanding of the assets in their environment, including both hardware and software assets. The ConfigureTek team also installed and set up the Software License Optimization Best Practice package, which includes several thousand out-of-the-box software counters, of which they were tasked initially to activate 10 counters of their choosing, while training the client's personnel to configure others. ConfigureTek also installed and created several integrations to the Asset Manager database using the Connect-It integration tool. A few of the integrations included data pulled from their CA UAPM database, their Microsoft SCCM database, data from an SAP view and several customer generated spreadsheet/text files. Another integration was set up to Asset Manager from their HP UCMDB database using the "push" adapter feature of the UCMDB application. The project was successfully finished in six months.
ConfigureTek's Approach
In order to better help the client define their strategy, ConfigureTek with 30+ years of experience used the methodology that included:
Install, configure and customize software based on requirements
Setup integrations described above to populate the Asset Manager database with both hardware and software assets
"Normalize" data from integrations so all assets have correct titles/names, regardless of how they are "discovered"
Import/setup contract and software license records/data based on spreadsheet/text files provided by customer
Setup and calculate initial group (10) of software counters while giving the customer's personnel mentoring/training to continue to setup additional software counters as desired
Results
After the project was finished, the client got a very efficient asset management tool and better than the expected results:
Short learning-curve for users to understand navigation through software
Better knowledge of their IT asset inventory, including hardware and software
Accountability for software compliance or non-compliance of initial software counters
Automated notification when contracts are about to expire, giving them the ability to better re-negotiate
Automated updates of asset inventory using integrations