ConfigureTek specializes in expert consulting across HP Software Solutions which include powerful tools such as HP Release Control that provide key features such as Unauthorized Change Detection. Unauthorized change detection enables you to track changes that have occurred which were not scheduled to take place and pinpoint what the change was and who made the change. Unauthorized change detection assists with the process of change management to keep track of all changes that have occurred whether they were scheduled or not and also assists with assessing overall risk and impact factors.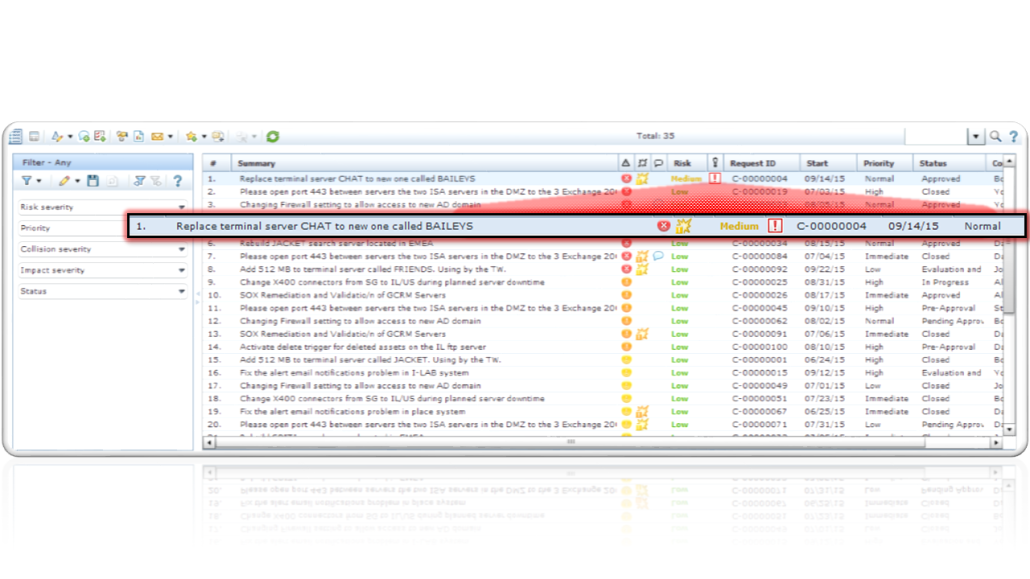 Risk Analysis
HP Release Control provides Risk Analysis features using a comprehensive set of factors to take into account all the possible risks involved with making a change to your environment. Risk Analysis calculates a relative risk value for each change that is scheduled to occur. Using these values the potential damage and probability of failure of a change can be assessed before it has been made to reduce the overall risk and impact of making changes in your environment.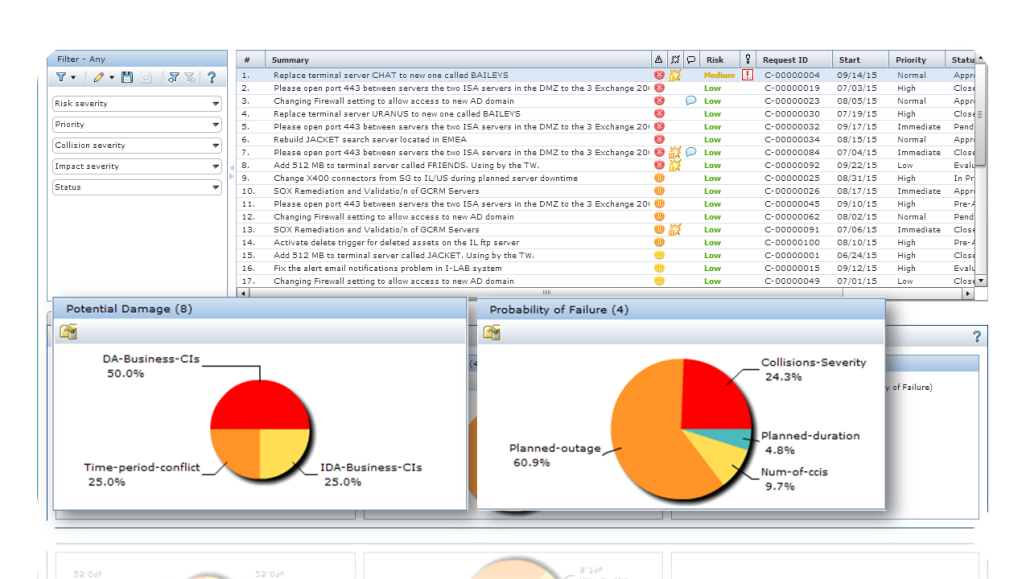 Collision Detection
HP Release Control provides collision detection capabilities to allow you to detect changes that are scheduled to occur at the same time reducing the overall risk and impact on your environment. Change collisions can have a drastic impact on key business services if left unnoticed and could be disastrous under certain circumstances. Collision detection will help avoid these situations and is also a factor in assessment of overall risk and impact.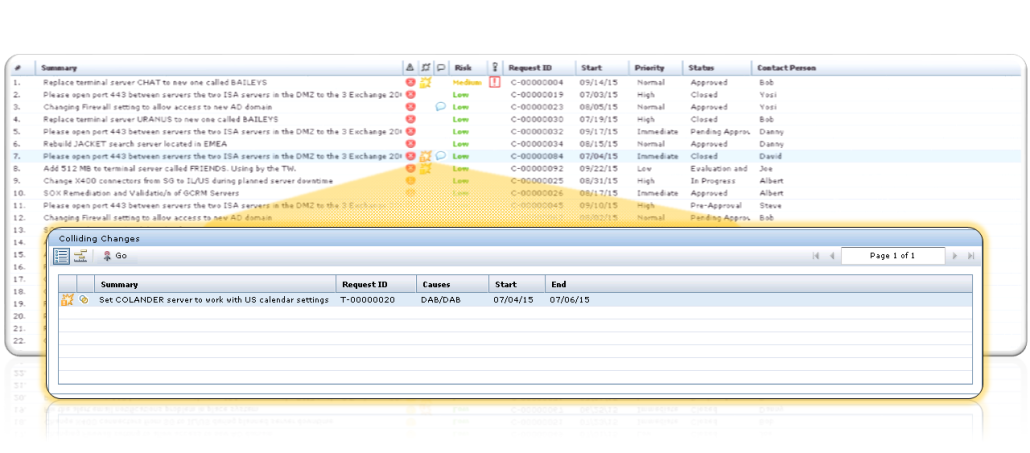 CAB Collaboration
HP Release Control helps facilitate discussion on changes with virtual CAB collaboration. Each change can have its own discussion thread to reduce miscommunication and streamline the process of change management. CAB Collaboration makes it easier to keep communication related to changes and can improve the overall quality of the process taken to put changes through.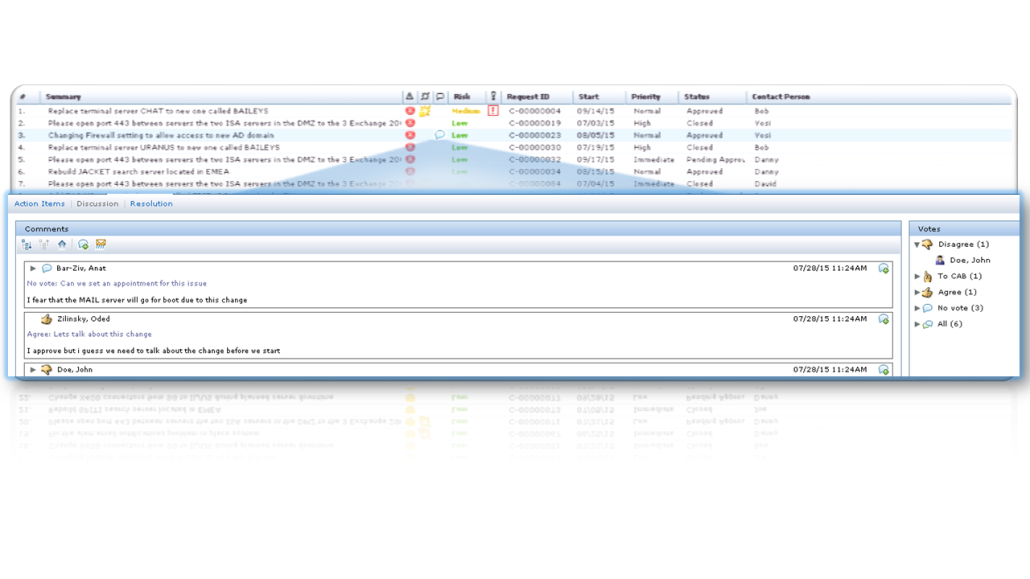 Impact Analysis
Use HP Release Control's Impact Analysis feature to simulate changes in your environment to asses risk and impact to stay ahead of potential incidents before they arise. Having Impact Analysis for each change can greatly reduce the risks involved in making changes by giving a clear overall picture of what systems and services will be impacted by a change and shows the potential damage that could be inflicted on your environment.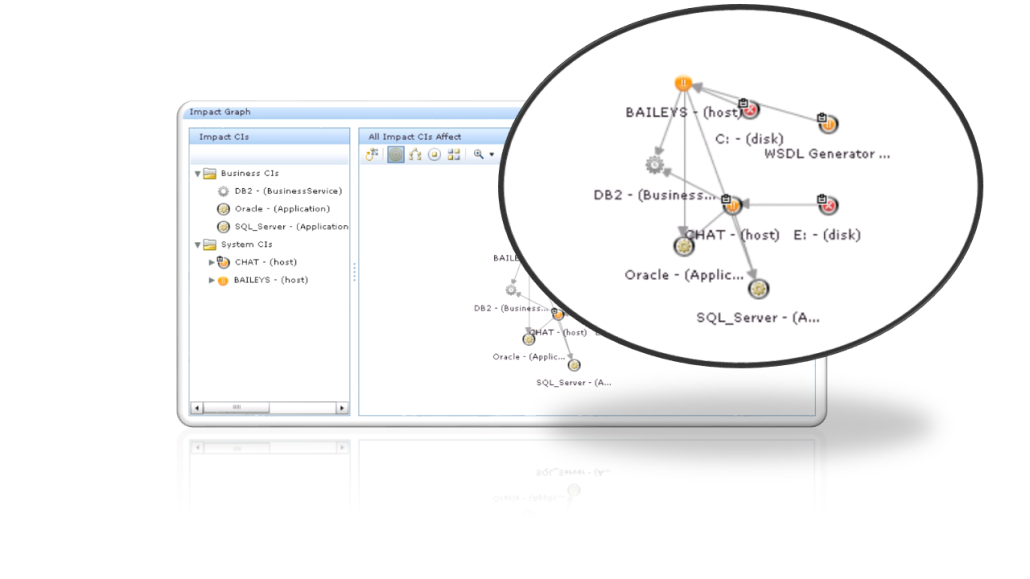 Supports Integrations to Any Service Desk
HP Release Control supports integrations to multiple service desks simultaneously and supports integrations to any service desk to provide total compatibility with your incident ticketing system and bring all factors into consideration when assessing the risks of change.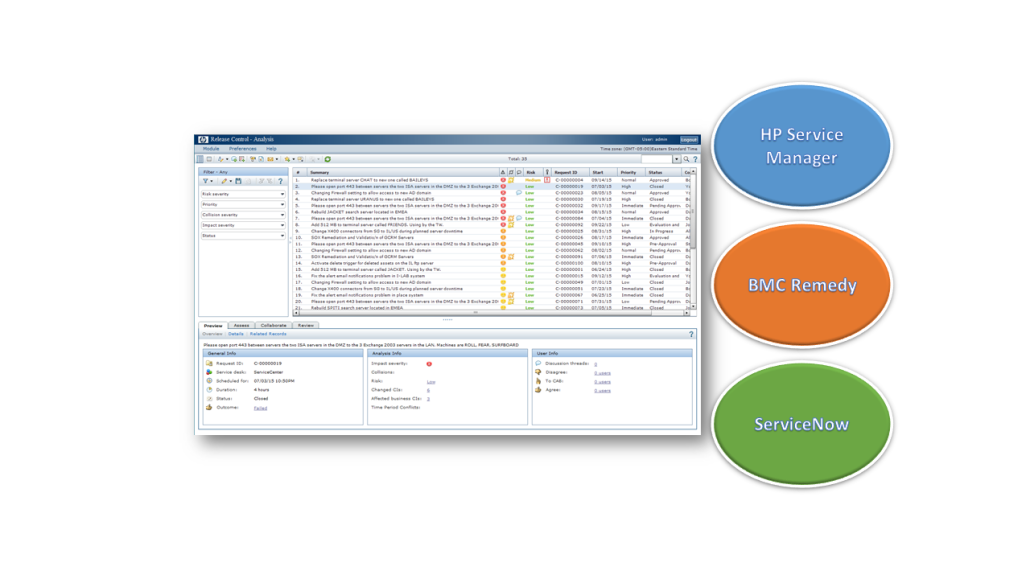 Monthly Change Dashboard
Get an overall view of monthly changes and the risk and impact severity with HP Release Control to stay on top of planned changes. Using the dashboards provided in Release Control can assist in the change management process by giving you the tools you need to stay informed on changes occurring in your environment and prioritize changes that need to be made while also being aware of the potential risk and impact a change could have.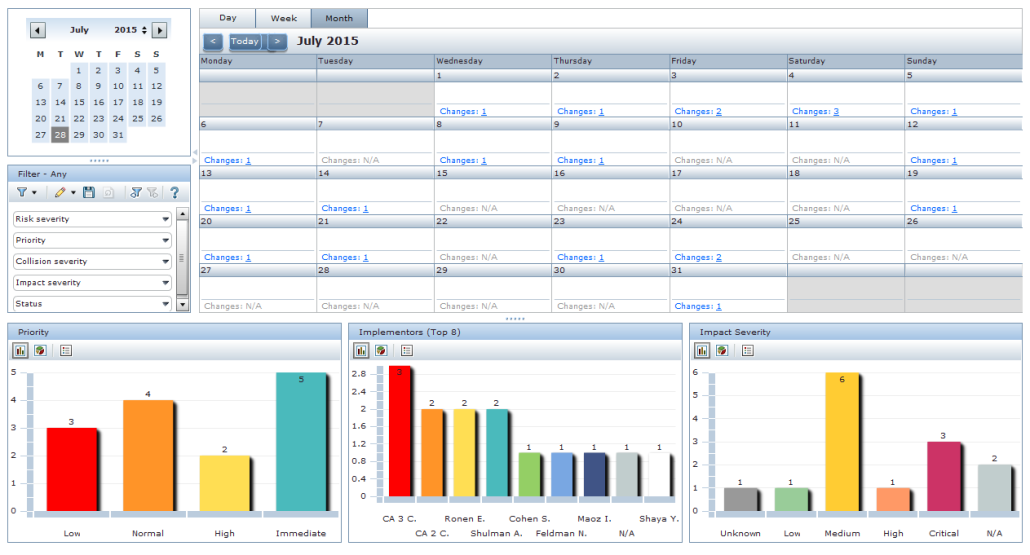 Track changes made without proper authorization
Report app level changes without corresponding tickets
Visualize the risk and impact of planned changes
Notify unauthorized downstream changes to app owner
Instantly visualize and act upon change history reporting
Below is a world class top of the line products  which we combine with excellent services.
ConfigureTek has packaged quick-start implementations that are targeted to deliver quick, powerful value within a focused subset of the IT environment. The emphasis is on building a strong foundation, and demonstrating meaningful results that can later be scaled out enterprise-wide. The 5-week implementation process includes:
Project initiation & planning
Requirements validation
Installation & Configuration
Initiation of Automatic Discovery
Change detection scope setup
Initial screening of unauthorized changes
Integration with service desk
Documentation
Project Close-out
Contact us for an implementation price quote! Prices are subject to change.
Please contact us @1-800-987-8460, option #1 to inquire about how we can implement this powerful quick-start solution within 5 weeks.